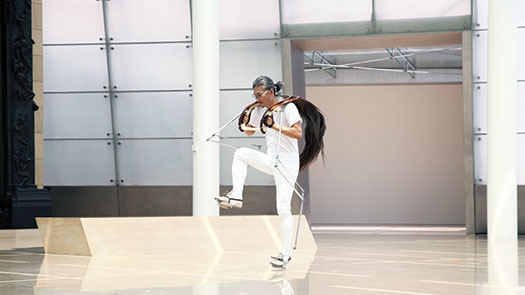 Monday 8

–

Friday 19 October 2018
If you are not a bird
Jimok CHOI, Hyungkoo LEE
Open Monday - Friday, 12:00 - 18:00.
Open late on Thursdays until 19:00
Who do you think you are? is a fundamental question that enables a multiplicity of voices and marks a discourse in perception. Artists evoke spaces and time in order to make their concepts visible and to take on a transformative level. Their attempt to illustrate the perception of identities often moves beyond collectively repressed social structures. Under these circumstances, their productive processes begin to play with the possibility of differentiation of identities. The project IF YOU ARE NOT A BIRD investigates and brings into question the subjective concepts of the unfixed and a multiplicity (cultural, social & political) of self. To speculate and question about being a bird may appear paradoxical and absurd. But this attempt enables us to explore boundaries and give rise to transformation in different states of selves. What would you do if you were a bird?
Participating artists: Jimok CHOI, Hyungkoo LEE.
Curators: Jung Me Chai, Won Jung Shin.
Assistant Curator: Jungmin Lee
Coordinator: Heejin Cho
ATM18 Film Screening
7 – 11 November 2018
DISKURS Berlin
Novalisstraße 7
10115 Berlin
Germany
Jimok Choi is an artist and a performer based in Berlin. He focuses on identity issues by using frames; he cuts and rearranges existing objects to reverse their order or position. He participated in the group show (ulti)mate Event at Diskurs Berlin in 2016 and 2017 and the Art Space Tetra, Fukuoka in 2017. Since his first solo exhibition at the Muthesius Kunsthochschule, Kiel in 2013, his works have been exhibited in Germany and Korea, including the Künstlerhaus in Laurenburg and the Underdog Gallery in Hamburg in 2014, Den Ort verlassen / ALLES MUSS RAUS in Berlin Weekly in 2016, the Space O'NewWall in Seoul in 2017 and the KUNST & CO in Flensburg in 2018. He is a recipient of the Künstlerhaus residency program in Lauenburg in 2014, and won the 2014 Muthesius Prize by Muthesius foundation in Kiel, Germany.
Hyungkoo Lee is an artist and a sculpture based in Seoul, South Korea. Majoring in sculpture at Hongik University in Seoul, he moved to New York and later received a master's degree in sculpture from Yale University in 2002. Lee has been recognized for his cartoon figures with skeletons. He explores the idea of motion or perception by transforming the appearance or creating fictional animated characters with bones. He represented South Korea in the 52nd Venice Biennale in 2007, as the first artist presented alone when the Korean Pavilion was run in 1995. In 2008, he was invited to the Natural History Museum of Basel, and his Animatus was exhibited at the Polytechnic Museum in Moscow in 2015. His works have been widely exhibited, including Royal College of Art, London in 2008 and 2015, Institute Valencia d'Art Modern, Valencia, Spain in 2009, Spazio Lightbox, Venice in 2013, and Vestfossen Kunstlaboratorium, Norway in 2016. He is a recipient of MFA Grant Program by Joan Mitchell Foundation in 2002.
Image Credit: MEASURE, 2014 (still), Hyungkoo Lee
Supported by

In partnership with DISKURS Berlin, a Non-Profit Project Space & Research Programme. DISKURS Berlin is the place for the presentation of an international program of exhibitions and discussion platform. DISKURS Berlin focuses on the international curatorial exchange program, collaborates with public and private institutions, managing projects, and offers training opportunities, a research program for international curators. Many factors have changed the global art world and shifts have taken place. The presence of art from Korea, and Asia, in general, has increased tremendously in recent years and this art is much in demand. Yet the contemporary art scene, as well as private collections in Asia, are still relatively new phenomena, and there is often insufficient access to the Western art scene, which hinders fruitful exchanges and debate. As negotiator and facilitator between Germany and Korea, DISKURS Berlin's mission is to achieve structural improvements within the art scene and to organize contacts and establish a network of artists, curators, art theorists, and art scholars.