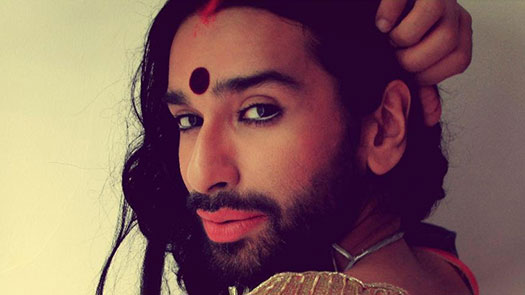 Friday 5 October 2018
The day after the day before I sinned
Qasim Riza Shaheen
19:15
Poignantly adorned and costumed, five brides wait, in anticipation, for rites of passage, which in this work, shifts our attention from the actual beloved to an imagined one. Using live and audio soundtracks, the five brides-in-waiting lip sync and gesture through archetypes of longing and desire.
Qasim Riza Shaheen is a British artist and writer based in Manchester. Working across participatory performance, installation, film and photography, Shaheen's practice explores memory, autofiction, notions of beauty, sexuality, love and, more broadly, fundamental concerns about human nature.
Qasim's work has been exhibited and programmed widely, including at Asia Contemporary Art Week, New York; Cornerhouse, Manchester; mac in Birmingham; Southbank Centre, London; SPILL Festival of Performance, London; Brighton International Festival; Victoria & Albert Museum, London; Liverpool Biennial; Arnolfini, Bristol; National Review of Live Art, Glasgow, Scotland; La Boral, Gijon; Trouble Festival, Les Halles, Brussels; CityArts and Project Arts Centre, Dublin; Corona Cork Film Festival, Ireland; Castlefield Gallery, Manchester, Twelve Gates Arts, Philadelphia; and Alhamra National Gallery in Lahore, Pakistan, where he was invited as an international resident artist and subsequently as an Associate Professor at the prestigious National College of Arts in Lahore and Islamabad.
Image Credit: Selfportrait Ardhanarishvara Qasim Riza Shaheen 2010