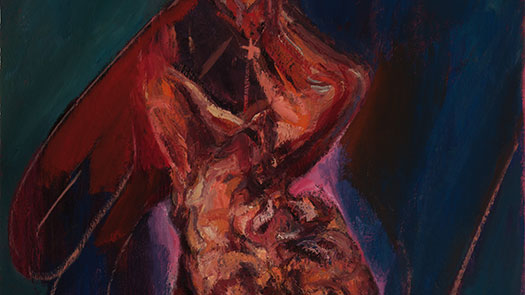 Monday 15

–

Sunday 21 October 2018
Remodel: Painting Studio
Jai Chuhan
12:00 - 20:00
Connecting with her solo show Refuge at Gallery Oldham (Sat 15 Sep – Sat 24 Nov), Jai Chuhan will spend a week making paintings in our main gallery in an open studio, an immersive space suffused with colour and sound. She will create an evolving sculptural installation that changes every day within the architectural environment of the gallery.
A kind of archetypal stage will present interactions between objects and people passing through, including models and dancers, who will enact a variety of poses exploring dynamic relations between the human body and objects such as natural and machine forms, exploring identity in relation to gender, nature and modern technologies, asking who or what we might be. The open studio will function as a refuge, a space for remodelling and remarrying ideas and materials, revealing mergers and ambiguities between genders, human and artificial intelligence and cultural interactions as in European and Asian clothing and rituals.
Throughout the day visitors may respond to the gallery environment including creating their own images, experimenting with paint, colour, imagery and styles of visualisation, revealing aesthetic and biographical lineages.
Jai (Jagjit) Chuhan is an Indian born British artist who studied at UCL Slade School of Fine Art in the 1970s. Her paintings have been exhibited internationally, including in Italy, Sweden, Belgium, China and Singapore, and in the UK, including at Tate Liverpool; Barbican, London; Ikon, Birmingham; Arnolfini, Bristol; Watermans Arts Centre, London; Commonwealth Institute, London; Horizon Gallery (Indian Arts Council in the UK), London; Liverpool Biennial; and Asia Triennial Manchester. Her paintings are in collections including Arts Council Collection; University of Liverpool Art Collection; Cartwright Hall, Bradford; Grosvenor Museum, Chester; Usher Gallery, Lincoln; and Tate Archive.
Image Credit: J Chuhan, 'Dancer' 2012 oil on canvas 120 x 180 cm