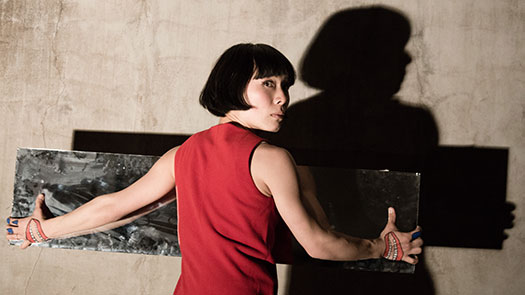 Friday 5 October 2018
KOMA
Masumi Saito
18:30
London-based Japanese artist Masumi Saito explores the theme 'Who do you think you are?' through a participatory performance, where the audience is triggered to reflect on notions of physicality and identity. KOMA presents subversive elements that allow Masumi to alter the audience's role in this experience.
Masumi Saito is a Japanese movement artist trained in various dance forms. She developed her own understanding of physical expression and discovers new possibilities to adopt her movement work into non-traditional dance platforms. Collaboration and designing spaces with logic and emotion are central to her practice.
She has performed at prestigious venues such as Tate Britain, Tate Modern, ICA, RCA, Hayward Gallery, Kanazawa 21st Century Museum, Edinburgh Fringe, Aldeburgh Festival and Nakanojo Biennale, amongst other platforms both in the UK and Japan.
Masumi's recent film projects have been shown internationally at: 53ARTMUSEUM (China), International Video Dance Festival of Burgundy (France), Agite y Sirva Video Dance Festival (Mexico), International Screendance Festival at the American Dance Festival, SEDA (Argentina), Numéridanse.TV (France), Now&After13′ International Video Art Festiva(Russia).
Image Credit: 'In Praise of Shadow' 2016. Photo Credit Koya Yamashiro